Swimming with Whale Sharks
These enormous ocean dwellers and gentle swimming companion migrate for the seasonal feeding aggregation in the the protected areas of Gladden Spit  which is a spawning site for many different tropical fishes which produce tons of spawn. Swimming with Whale Shark is a once in a lifetime opportunity and exhilarating experience.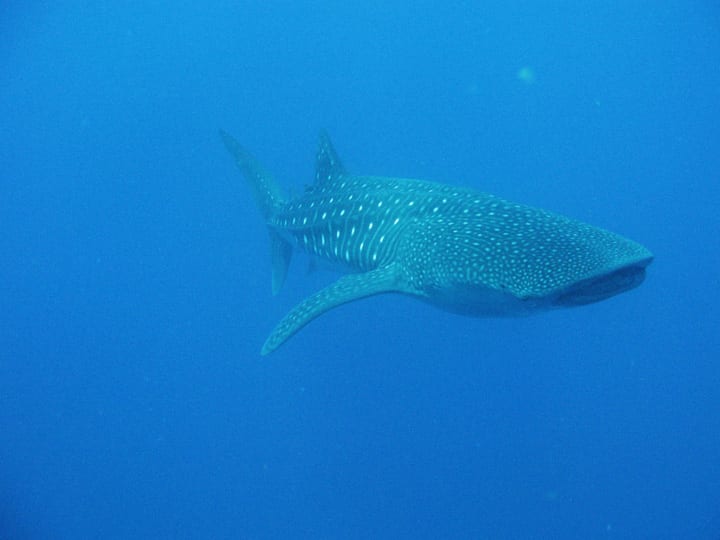 Included in your Whale Shark trip
Guide, snorkel gears, park/conservation fees, lunch, bottled water, tax
Please bring along: Sunscreen, towels and underwater cameras.
 Whale Sharks season in Belize 2024:
April 23- May 3 (Full Moon – April 23)
May 23- June 2 (Full Moon – May 23)
June 21- July 1(Full Moon- June 21)
Best time to see Whale Sharks 4 to 5 days after full moon.
In the months of March, April, May and June around the full moon, these gentle giants migrate to a distinct area on the reef known as Gladden Split about 30 miles from Placencia. Large schools of fishes such as the mutton snapper and cubera aggregate in this area to reproduce and spawn fish eggs that attract the Whale sharks to feed on.
Sometimes the whale sharks cruise on the surface, some times in a few feet of water and other times all the way down deep. Normally when we encounter the Whale sharks they swim steadily in one direction and we are able to get up-close to the majestic beasts. But sometimes we only see them in the distance.
There is no guarantee of a Whale shark sighting but this is a blue water snorkel which is a unique experience as you will sometimes be able to see the huge schools of fish waiting to spawn, other species of sharks, manta rays, other pelagic fish and sometimes even dolphins.
Since only a certain number of boats are allowed at a time, we will spend time snorkeling the patches of reef as we await our turn.
We will comb the reefs edge that will lead us down to turtle alley where if nothing else we will snorkel with some turtles rays and nurse sharks.