Harvest Caye belize Excursions
Cruise passengers can relish 7 of the top excursions from Harvest Caye, Belize. Activities on the island are Parasailing, a Wildlife sanctuary, or Zip lining from the lighthouse. Choose from either the Silk Cayes which is about an hour from Placencia on the Barrier Reef. Silk Cayes are 3 small islands also known as the "Queen Cayes", perfect for snorkeling or Laughing Bird Caye National Park.Harvest Caye is a 75 acres eco-friendly cruise port in southern Belize, owned by Norwegian Cruise Line. There are many activities on the island, passengers still disembark on a ferry to the village. The regular ferry service connects Harvest Caye to the Placencia Village on the mainland. One of the more attractive tourist destinations in the country.
KAYAK Placencia Guide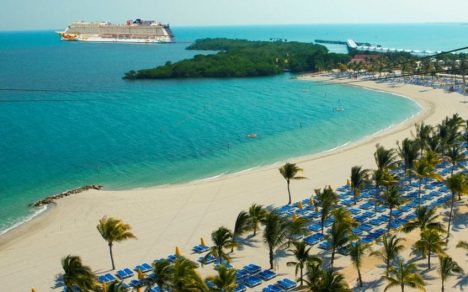 Ferry to the mainland - Meeting up with us.
Placencia Tour Operators are not allowed to access the docking facilities at Harvest Caye. You need to take the Ferry over to Placencia Village from Harvest Caye.  This ferry is easy to access, but, sometimes, ferry tickets are sold out. We recommend purchasing a ticket onboard the ship. You can demand that they sell it to you because the ferry is sanctioned by NCL, and they control ticket sales. This guarantees you your space on the ferry.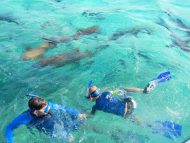 Placencia Snorkeling excursions
The Silk Cayes is about an hour from Placencia, on the Barrier Reef. Silk Cayes are 3 small islands also known as the "Queen Cayes", perfect for snorkeling. Other snorkel charters available from the village are to Laughing Bird Caye National Park as well as half day at Lark Cayes and Bugle Cayes.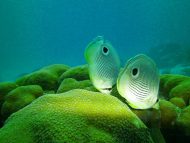 Fish and Snorkel
Spend the morning bottom fishing, trolling around the inner reefs in the Placencia area, or just trolling along the barrier reef. Catch snappers, groupers, mackerels, king mackerels, barracudas, maybe even get lucky with a Dorado or Wahoo along the Barrier reef. After fishing, you head to one of the nearby islands and snorkel a bit, while the morning's catch is being prepped and grilled for lunch.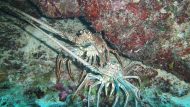 Straight Fishing
Whether it be trolling, spin casting or bottom fishing, we will deliver.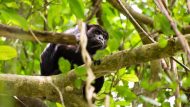 Monkey River Tour
Enjoy a river cruise, navigating through mangrove tunnels spotting wildlife such as crocodile, manatees, iguanas, birds, howler monkey, and an occasional porpoise.